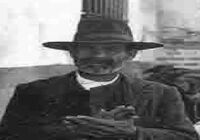 Grigori Christi Negresco (1879-1966), born Grigore Cristian Negrescu, was the son-in-law of Buck Leeburg, being married to Leeburgs eldest daughter Victoria Leeburg (1881-1970). After the Revolt of 1907 all Leeburgs were either killed or fled the country, but the Negresco's were allowed to stay because they were always friendly and compassionate to towards the native inhabitants and had always been respectful to their customs. They founded the Church of Stamadri and christened many native islanders.
The couple had eleven children, six sons and four daughters:
Two of their daughters became nuns and one son became a priest. One son died young. The remaining seven children all raised families of their own. Negresco died in 1966 at the age of 87. He was buried under the altar of the church. He is now seen as the Holy Patron of the city Stamadri where he lived and died.