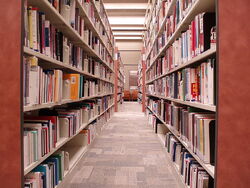 The East-Leeburg Library is a library in East-Leeburg maintained by the district government. It is a small library with adjacent study-room and video-rent. The library is literally lined with books. The library is open for non-locals, but the latter one cannot rent books. The library owns a small collection of folios as well besides books and CDs.
It is possible to have a nice cup of tea or coffee in the small lunchroom.
Popular politician and Maritima candidate James Stanton is at Thursday evening a worker in the library from four o'clock to five o'clock.